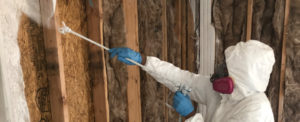 Mold Solutions is a full-service mold inspection, testing, remediation, and prevention company that can help you prevent mold problems from occurring and can resolve any existing problems. We use environmentally friendly products that are virtually non-toxic, non-poisonous, formaldehyde-free and have passed EPA requirements for safety. Mold Solutions is proud to be selected as the antimicrobial …
Let's talk about the path to your Mold Solution.
Choose the way you'd like to connect and help is on the way.
Not ready to talk to someone? Take our free online self-assessment and get clarity.